Primary Joint Replacement
Thank you for putting your trust in our services for knee surgery and rehabilitation. The explanations provided are designed to explain what patients should expect before, during and after their hospital stay. Dedicatedly working towards delivering best possible patient care experience and outcome, we work towards providing outstanding care and services to assist patients in achieving highest possible level of limb functioning.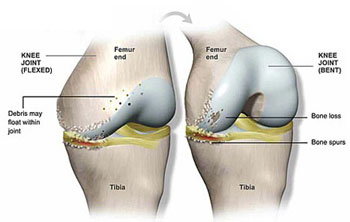 Knee surgery is done keeping in consideration problems related to areas like –
Femur (thigh bone)
Tibia (shin bone)
Patella (kneecap)
The implants are done using combination of latest surgical methods and specialized tools that assist in effectively replacing lost ligament stability and motion.
Total knee replacement relates to resurfacing bones of knee joints by use of prosthesis. Being one of most importantKnee Replacement orthopaedic surgical advances in this field, Primary Joint Replacement Surgery for knee has seen advancements with the improvements in used surgical materials and techniques, thus increasing the effectiveness of the procedures. Further, with all done implants usually cemented to prepared bone surfaces, Total Knee Replacement has emerged as a safe and reliable procedure if performed under trained and experienced hands.
The three surfaces of the knee that may become painful and require surfaces replacements include:
Femoral – Covering the lower end of thighbone
Tibial – Covering the top of shinbone
Patellar – Covering the underside of kneecap
To know more please check our FAQ section…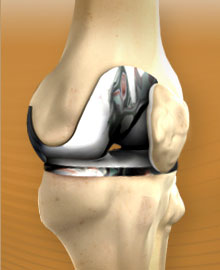 Our Benefits:
The Primary Joint Replacement Surgery for Knee is done by experienced and well trained clinical team led by Dr. L. Tomar to perform Joint replacement surgeries. Dr. L. Tomar, who is a Board-certified, fellowship-trained orthopaedic surgeon holding specialization in Knee Replacement Surgery. Some of the pre-operative and post operative benefits provided by him and his team include:
Rich practice experience in large multi-specialty group having representation of all areas of orthopaedic surgery
Opd consultation is provided by experienced ortho Surgeons
Dedicated theatres equipped with state-of-the-art technology instruments for conducting Joint Replacements and Trauma surgery
Well equipped for treating all types of musculo-skeletal problems that can range from Trauma Surgery to Minimally Invasive Arthroscopy Surgery
Specialization in surgery for joint replacements, knee surgery, and physical therapy concerning rehabilitation
Services performed backed by latest technology and advanced skill support
Facility of computer navigation and imaging technique for advanced joint replacement surgery
Expertise in providing cutting edge diagnostic and treatment facilities in orthopaedics
Services backed by advanced medical equipment that is required for providing emergency care
Expertise in utilizing minimal access surgery approach