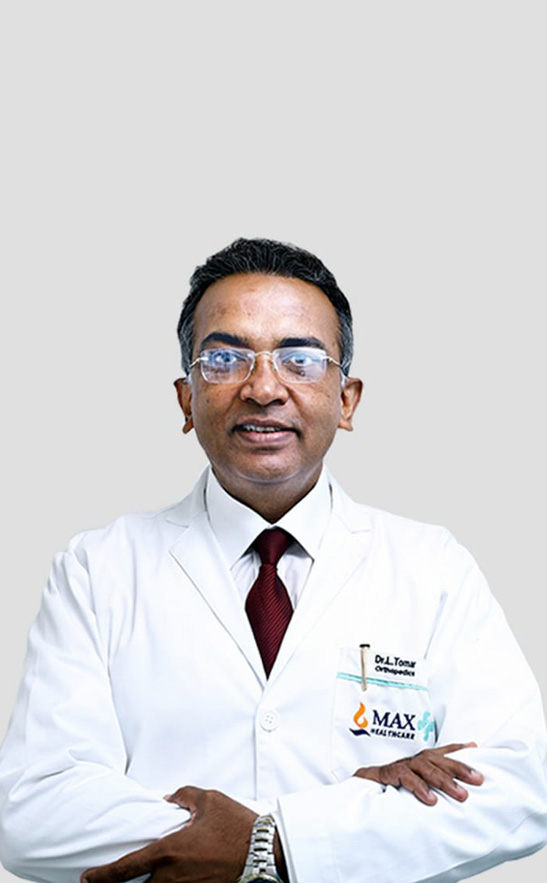 DR. L. TOMAR M. S, M.Ch. Orth (U. K), F.I.C.S.(USA) DIRECTOR & HEAD OF THE UNIT Dept. of Orthopaedics & JOINT REPLACEMENT
Message from Dr. L. Tomar, Orthopaedic Surgeon
We solidly accept that administrations conveyed by us have to be upheld by forethought and right methodology as this prompts accomplishing quality models as the patient anticipates from us. With every single procedure attempted to give profitable commitment towards adjusting the general destination of the technique, we understand the gigantic obligation that rests on our shoulders.
We are devoted towards conveying the largest amount of expert forethought utilizing most recent methods and help systems followed in the field of Orthopedics Internationally. For this, we have all important engineering; office and group help as needed in conveying obtrusive and non-intrusive medication for Orthopedics.
We have the assets to accumulate the delight of fresh and healthy existence in your life. Supported by expertise of most recent surgical systems and help supplies, we are reliably working towards our point of conveying quality end results identified with orthopedic consideration. Further, the predictable deliberations made through 'Tomar Foundation' help us in bringing the amenity of reasonable therapeutic consideration to the masses.
The ceaseless system of procedure examination, substructure and expert backing accessible at our end make us to convey execution that spells Success…not overlooking our objective is to bring back the grin of consolation and fulfillment on the characteristics of our patients.
India's Most Prominent Healthcare Award 2018, Dr L Tomar, Best Joint Replacement Surgeon in Delhi
You are extraordinary to us. Kindly do stay in contact so we can brief you now and again the recent alterations occurring in the area that may assist you to live a relaxed and healthy life.
Dr. L. Tomar
M.S. (Ortho), M.Ch (Orth), U.K., FICS (USA)
Senior Orthopaedic Surgeon
Specialist Joint Replacement & Spine Surgeon