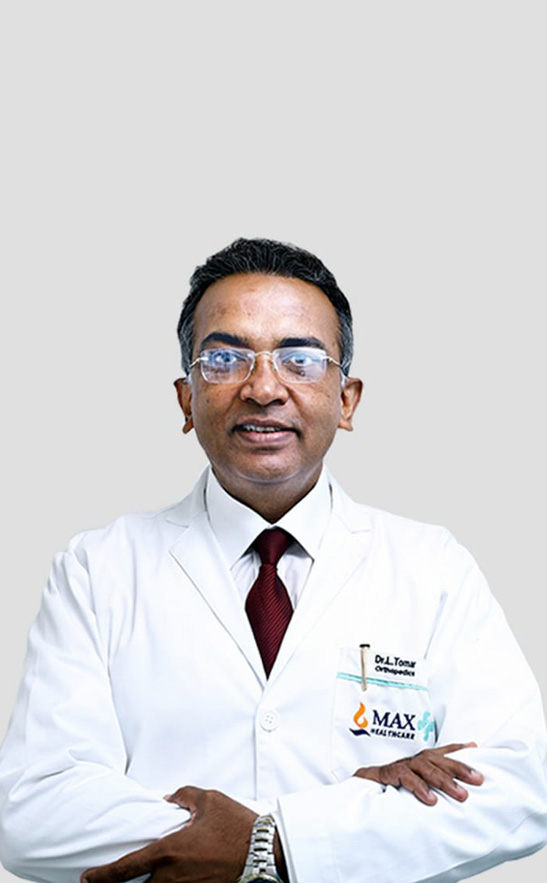 DR. L. TOMAR M. S, M.Ch. Orth (U. K), F.I.C.S.(USA) DIRECTOR & HEAD OF THE UNIT Dept. of Orthopaedics & JOINT REPLACEMENT
Dr. L. Tomar, an expert orthopedic specialist has more than 20 years of experience in Orthopedics. He is a prominent identity in field of intrusive and non-obtrusive orthopedic methodology and his mastery lies in giving complete patient consideration while performing all included surgical and non surgical techniques with complete accuracy. The referrals of complex instances of orthopedic patients by heading specialists for a second assessment, surgical intercession and testimonials of the patients talk about his skill in understanding and conveying quality orthopedic administrations.
Having gone to numerous prestigious International and National orthopedic Workshops and Conferences both in India and abroad, his rich surgical and clinical experience is sponsored by the association of FICS – USA – a worldwide association that is committed towards uniting surgical pros and specialists of all countries to advance surgical magnificence.
Moreover, he likewise has cooperation of FASIF – AO Switzerland – a heading and internationally perceived Fellowship Association of Surgeons for taking care of multifaceted issues identified with inner fixing.
Area of Expertise
Dr. L. Tomar has coordinated efforts with specialists in USA, SWITZERLAND, GERMANY, U.K and AUSTRALIA and regularly visits there, which helps him to bring to INDIA the most recent innovation and strategies in field of orthopedics for profit of patients. He is one of the few specialists working from India, who have the aptitude to perform exceptionally mind boggling of surgeries in the orthopedic field. He has picked up dominance in surgeries, to be specific, Spine Surgery (Balloon Kyphoplasty/Vertebroplasty, Lumbar Laminectomy and Lumbar Microdiscectomy), Primary Arthoplasty & Revision Arthoplasty.
Professional Memberships
Famous for his best clinical judgment and fine surgical abilities, Dr. L. Tomar has numerous International and National participations in institutions of repute to his credit. These comprise:
Member of American Academy of Orthopedic Surgeons
Membership AOSpine Asia Pacific
Member of AO Alumni Association Switzerland
Member of International College of Surgeons, USA
Member of Indian Arthroplastry Association
Member of Alumni Association, Dundee University, UK
Member of Asia Pacific Arthroplasty Society
Member of Indian Hip and Knee Surgeons, Society
Member of Spine Surgeons of India
Delhi Medical Council Reg No. 14493
Life Member of Indian Orthopedic Association
Stretching Horizons in Field of Orthopedics –
Having a sharp understanding and knowledge in the field of Orthopedics, Dr. L. Tomar further honed and upgraded his abilities in this field while working with Ninewells Hospital and Perth Royal Infirmiry, heading and globally perceived establishments in the field of Health Care. This term helped him in growing his points of view in the field of Primary – Revision Joint Replacement Surgeries and Minimally Invasive Computer Assisted Navigation Joint Replacement Surgeries.
MCh Degree in Ortho from University of Dundee, Scotland, UK:
Dr. L. Tomar was honored with MCh Degree in Ortho by University of Dundee, Scotland, UK, which is world's heading college in the area of orthopedics and in doing 'universally heading' exploration exercises.
MS Degree in Ortho from Meerut University, Meerut:
Dr. L. Tomar was a standout amongst the most, guaranteeing and splendid specialist from the starting of his vocation. He picked up his MS degree from a standout amongst the most perceived schools in medicinal field – LLRM Medical College, Meerut.
Universal Conferences Attended –
Dr. L. Tomar has additionally attended to an arrangement of presumed worldwide meetings in the field of Orthopedics. Some of these comprise of:
AOSpine Advances Course in Lumbar Degenerative Deformity, September 2012, Kuala Lumpar, Malaysia
AOSpine Advances Course in Lumbar Degenerative Disc Disease, September 2012, Kuala Lumpar, Malaysia
Fellowship Programme in Revision Hip & Knee Arthoplasty with Prof. Graichen at Asklepios Klinik Lindenlohe GMBH at Germany in 2012
AOSpine Master Symposium, September 2012, Kuala Lumpar, Malaysia
Clinical Training of Percutaneous Discectomy for lumbar and cervical Nucleoplasty procedures, Singapore General Hospital and April 2010
Computer Assisted Surgery for total knee replacement, total hip replacement (TKR & THR) and articular surface replacement (ASR), St. Vincent Hospital and Education Centre, Melbourne, Australia in December 2007
Intelligent Knee Surgery training in June 2006, SGH, Singapore
Certified Achievements
Dr. L. Tomar has effectively performed roughly 20,000 surgeries in his expert limit inside a compass of 20 yrs which incorporates 2000 spine surgeries and in excess of 1500 joint substitution. Shortly Dr. Tomar is filling in as a Senior Orthopedic Surgeon at Max Super Specialty Hospital, Patparganj, Delhi, which is among the heading healing facilities in the field of orthopedic care.
Grants & Accolades
The devoted and predictable exertion made by Dr. L. Tomar in the field of Orthopedics has helped in his administrations getting decently perceived and acknowledged amongst the medical organization. For this extraordinary commitment, he has additionally been congratulated several times by internationally perceived and presumed establishments. A percentage of the arrangement of honors and distinguishment he has gained for his innovative advance in the area of Orthopedics include:
CHIKITSA RATAN SAMMAN – 2013 in recognition of outstanding services to society and excellence in Orthopedic profession, By Akhil Bhartiya Swatantra Lekhak Manch on 23/12/2013.
UDBHAV SHIKHAR SAMMAN – 2013 for outstanding contribution in the field of Orthopaedics, By UDBHAV On 19/12/2013
Global Healthcare Excellence Award 2013 for Best Joint Replacement Surgeon in Delhi & NCR, By Prime Time Research Media Private Limited
Distinguished Service Award for outstanding contribution in the field of Orthopaedics, On Doctors Day – 2009 by IMA (Indian Medical Association) New Delhi
Indian Hall of Fame (Medicare) Award 2005, By All India Achievers Conference, New Delhi (In recognition of outstanding services to society and excellence in Orthopedic profession)
Chikitsak Ratna Award, November 2004
Distinguished Service Award, By IMA (Indian Medical Association), New Delhi In recognition for outstanding contribution in field of Orthopaedics – Doctors Day – 2003)
Rashtriya Ratna Shyiromani Award, December 2002
Manav Seva Samman, 2001, New Delhi
Contact Us
If you have any questions prior to your appointment, please get in touch with North Texas Brain and Spine Specialists by visiting our contact page.